Archive for the 'Tobacco Companies' Category
We veterans of the Loma Linda VA Medical Center are frequently privileged to assist Dr. Linda Ferry as she teaches students at the Loma Linda University School of Medicine about all aspects of tobacco addiction, along with proven methods for quitting. Dr. Ferry's decades of research and experience, in combination with testimony from former smokers like us, come together to form a powerful exercise in learning.
Perhaps one aspect of tobacco use that's especially difficult for many young medical students to grasp is why, given the obvious medical problems associated with smoking, so many people begin smoking when they do and why they continue to smoke, even after their health begins to deteriorate as a result. It's a rather complicated question, but what many people don't realize is that in addition to the physical, habitual, and psychological aspects of nicotine addiction, there are powerful social and cultural influences that continue to be handed down from one generation to the next. In fact, many medical students today are shocked to learn that there was a time not that long ago when their own predecessors (doctors, dentists, nurses, and other medical professionals) openly endorsed, recommended, and encouraged cigarette smoking.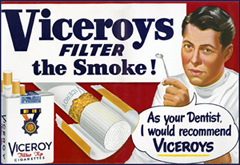 This was accomplished through magazine, newspaper, and billboard ads, along with radio and television commercials.
In addition to paying for medical endorsements, tobacco companies and their marketing campaigns have methodically targeted various groups within the general population – including women, teenagers, children, racial minorities, and (quite heavily) members of our military, both at home and abroad.
Although the majority of these advertising practices have been outlawed in our own country, their influence is still felt today. As baby boomers, the psychological wiring that affected our attitudes toward smoking as a result of those early advertising practices continue to haunt us. In addition to influences from the various forms of media, as children we observed and followed in the footsteps of our parents and grandparents who had already been brainwashed for years by the tobacco companies into thinking that smoking was a healthy and acceptable social practice.
The Stanford School of Medicine has an entire research group dedicated to the study of tobacco advertising and its impact on society. SRITA (Stanford Research Into the Impact of Tobacco Advertising) is a research group which analyzes the effects of tobacco advertising, marketing, and promotion. Participants in this interdisciplinary program include faculty and students from several Stanford School of Medicine departments as well as the departments of History and Anthropology. Visit their site at http://tobacco.stanford.edu/ to learn more about their efforts and to see some fascinating examples of tobacco advertising through history.