Archive for the 'Tobacco Companies' Category
February 20, 2015
posted by
A recent investigative report by John Oliver, host of HBO's hit TV show "Last Week Tonight," focuses on Philip Morris International's newest tactic of intimidating both large and small countries through the courts. Their disgusting mission is to eliminate those laws that warn consumers about the dangers of smoking.
One of John's solutions to help combat big tobacco's unhealthy presence around the world is the creation of a new mascot by the name of "Jeff, the Diseased Lung." Click the image below to view John's report and learn more about big tobacco's latest strategy:
FDA URGED TO STOP HARMFUL TOBACCO INDUSTRY CHANGES
Jun. 23 2014
WASHINGTON, DC – Design changes and chemical additives introduced by tobacco companies in recent decades have made cigarettes more addictive, more attractive to kids and even more deadly, according to a report issued today by the Campaign for Tobacco-Free Kids.
The report, entitled "Designed for Addiction," details how tobacco companies purposely design cigarettes to make tobacco smoke smoother, less harsh and more appealing to new users, especially kids, and to create and sustain addiction to nicotine. Tobacco companies have made these changes without regard for the health impact and actually have increased smokers' risk of developing lung cancer.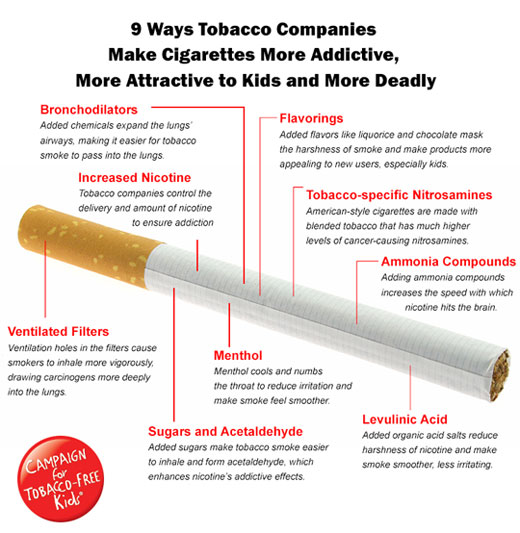 The report is being released on the fifth anniversary of the landmark law, signed by President Obama on June 22, 2009, that gave the Food and Drug Administration the power to regulate tobacco products. It calls on the FDA to require tobacco companies, at a minimum, to reverse the harmful changes they have made by issuing the first-ever product standards governing the design and content of tobacco products.
The report shows how tobacco companies have:
Made cigarettes more addictive by controlling and increasing nicotine levels and enhancing the impact of nicotine.

Made cigarettes more attractive to kids by adding flavorings such as licorice and chocolate that mask the harshness of the smoke, menthol that makes the smoke feel smoother and other chemicals that expand the lungs' airways and make it easier to inhale.

Made cigarettes more deadly, as disclosed in the new Surgeon General's report on tobacco and health, released in January. The report found that smokers today have a much higher risk of lung cancer than smokers in 1964, when the first Surgeon General's report alerted Americans to the deadly consequences of smoking. The new Surgeon General's report attributed smokers' increased risk of lung cancer to "changes in the design and composition of cigarettes since the 1950s."
"For decades, the tobacco industry had complete control over how cigarettes were made, and they responded by making a deadly and addictive product even worse," said Matthew L. Myers, President of the Campaign for Tobacco-Free Kids. "Now that it has the authority to regulate tobacco products, the FDA must require changes in these products to reduce the death and disease they cause. Decisions about how tobacco products are made and what is in them must now be based on protecting public health, not tobacco industry profits."
The Campaign for Tobacco-Free Kids and other public health organizations have called on the FDA to issue the first-ever product standard to reduce the toxicity, addictiveness and/or appeal of cigarettes and other tobacco products. Among its key recommendations for accelerating progress in reducing tobacco use, the latest Surgeon General's report called for "[e]ffective implementation of FDA's authority for tobacco product regulation in order to reduce tobacco product addictiveness and harmfulness."
While the United States has made enormous progress in reducing smoking, tobacco use is still the nation's number on cause of preventable death. Smoking annually kills 480,000 Americans and costs the nation at least $289 billion in health care bills and economic losses.
Key Findings: 9 Ways the Tobacco Industry Has Made Cigarettes More Addictive, More Attractive to Kids and More Deadly
The Campaign for Tobacco-Free Kids report is based on an extensive review of scientific studies and tobacco industry documents made public as a result of litigation against the industry. It also draws on the conclusions of Surgeon General's reports and the 2006 Final Opinion of U.S. District Judge Gladys Kessler in her racketeering verdict against the major cigarette manufacturers.
The report highlights nine key ways in which tobacco companies have made cigarettes more addictive, more attractive to kids and more deadly:
Making Cigarettes More Addictive
Increased Nicotine: Tobacco companies precisely control the delivery and amount of nicotine to create and sustain addiction.

Ammonia: Added ammonia compounds produce higher levels of "freebase" nicotine and increase the speed with which nicotine hits the brain.

Sugars and Acetaldehyde: Added sugars make tobacco smoke easier to inhale and, when burned in cigarettes, form acetaldehyde, a cancer-causing chemical that enhances nicotine's addictive effects.
Making Cigarettes More Attractive
Tobacco companies know that 90 percent of adult smokers start at or before age 18 and that smoking is unpleasant for new smokers, so they use chemical additives to make tobacco smoke smoother, less harsh and more appealing to the young, novice smoker. These additives include:
Levulinic Acid: Added organic acid salts, like levulinic acid, reduce the harshness of nicotine and make the smoke smoother and less irritating.

Flavorings: Added flavors like licorice and chocolate mask the harshness of the smoke and make tobacco products more appealing to young people (the 2009 tobacco regulation law prohibited cigarettes with "characterizing flavors" other than menthol, but did not prohibit the use of flavorings at levels not considered to be characterizing).

Bronchodilators: These added chemicals expand the lungs' airways, making it easier for tobacco smoke to pass into the lungs.

Menthol: Menthol cools and numbs the throat to reduce irritation and make the smoke feel smoother.

Making Cigarettes More Harmful

The new Surgeon General's report concluded that smokers' increased risk of lung cancer was most likely the result of two design changes in cigarettes:

Tobacco-Specific Nitrosamines: Levels of tobacco-specific nitrosamines, a potent carcinogen, have increased substantially in American cigarettes in recent decades and are much higher than in cigarettes from Australia and Canada. Factors affecting levels of nitrosamines include the tobacco blends and curing process used.

Ventilated Filters: Ventilation holes in cigarette filters cause smokers to inhale more vigorously, drawing carcinogens deeper into the lungs. (Cigarettes with ventilated filters were introduced by tobacco companies because they produced lower levels of tar and nicotine in machine tests and were marketed as less hazardous. However, the evidence now shows that these cigarettes did not reduce health risks and likely increased smokers' risk of lung cancer.)

In 2005, Philip Morris International (PMI) entered into an agreement to purchase Sampoerna, the third largest cigarette manufacturer in Indonesia:

"This is an excellent development for our shareholders and employees," said Sampoerna President Commissioner Putera Sampoerna. "PMI is well known as a successful and responsible manufacturer and marketer of quality tobacco products."

And, on Philip Morris USA's website I found the following quote:

"We support a variety of programs and initiatives to help reduce underage access to tobacco products, fund organizations that provide kids with the support they need to make healthy decisions, and support the development of tools for parents to help them raise kids who don't use any tobacco products."

Philip Morris would appear to be totally committed to manufacturing and marketing its tobacco products responsibly, actively striving to prevent children from becoming addicted to cigarettes at an early age. With that in mind, please take a moment to view the following HBO video which first aired in May of 2013:

Apparently, Philip Morris International is only as responsible as local laws and customs regarding sales of tobacco products to children are concerned. Since Indonesia's government turns its back on the health and well-being of its citizens, Philip Morris sees a huge opportunity to make billions of dollars while shortening the lives of millions of Indonesians. Where is the world outrage?

According to Wikipedia online, "USD $43 billion in International Monetary Fund (IMF) aid in 2004 was sent as foreign aid to Indonesia, and this assistance has traditionally been an important part of the central government's budget."

Historically, the US and other civilized nations have been known to withhold or reduce aid to those countries that fail to treat its citizens equally and civilly – especially when it comes to their children and minorities. So why does the US and others continue to send aid to Indonesia when its government does nothing to protect its children against the greedy claws of conglomerates like Philip Morris?